State of the art graphics
Take a cinematic High Definition journey through the solar system. Starry Night Cosmic Cinema showcases the incredibly rich and detailed OpenGL high-performance graphics rendering machine that has set the industry standard for excellence in astronomy software.
Your front row ticket
Starry Night offers unparalleled access into the life and possible death of Comet ISON. Join the mysterious iceball as it blasts past Mars and makes a spectacular fireball dive towards our Sun. Will ISON survive perihelion and create a blazing dust trail across the skies above?
Everyone Can Go
Starry Night offers a range of programs perfect for beginners, enthusiasts and professional astronomers. With a fusion of rich interactive multimedia tours, 3D simulations, spacetime travel, advanced features, databases, and telescope control, there is something for everyone.
A Comet ISON
Retrospective
It was touted by some as "the comet of the century," but ended up turning into a Thanksgiving turkey. Along the way we had many a side dish of alphabet soup. It was discovered in September of 2012 by Vitali Nevski of Belarus and Artyom Novichonok of Russia using a telescope which is part of the International Scientific Optical Network, or ISON for short. For that reason, it became known as Comet ISON rather than Comet Nevski-Novichonok, but its official designation was C/2012 S1.
Early computations of its orbit indicated that it would pass very close to the Sun on November 28, 2013, Thanksgiving Day in the United States. This proximity to the Sun suggested that it might become very bright, even visible in daylight. The media jumped on this prediction almost immediately, and the hype began.
Those of us with more experience with comets recalled David Levy's remark that comets are like cats: they have tails and do exactly what they want.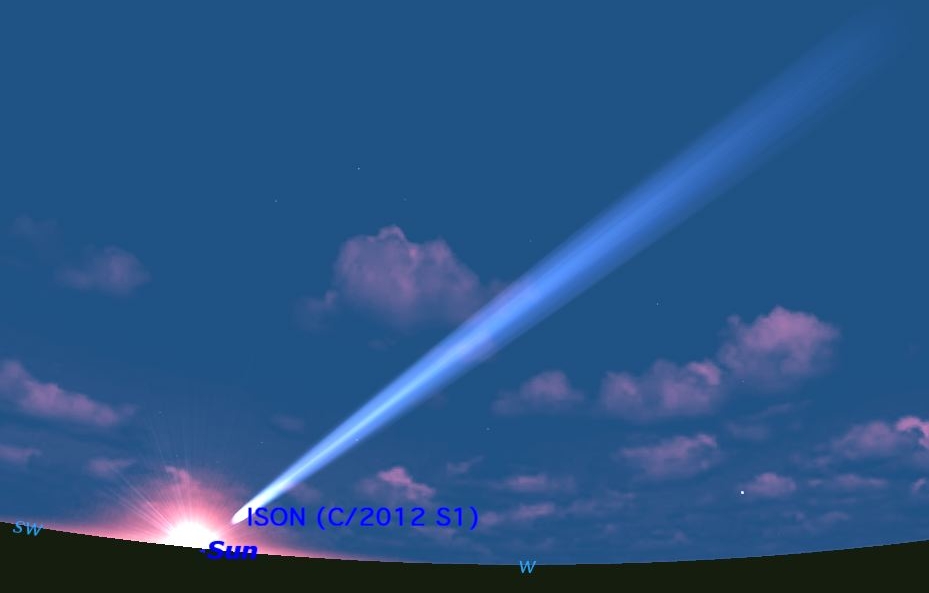 It was tempting to believe the impressive sight which Starry Night predicted for sunset on November 29.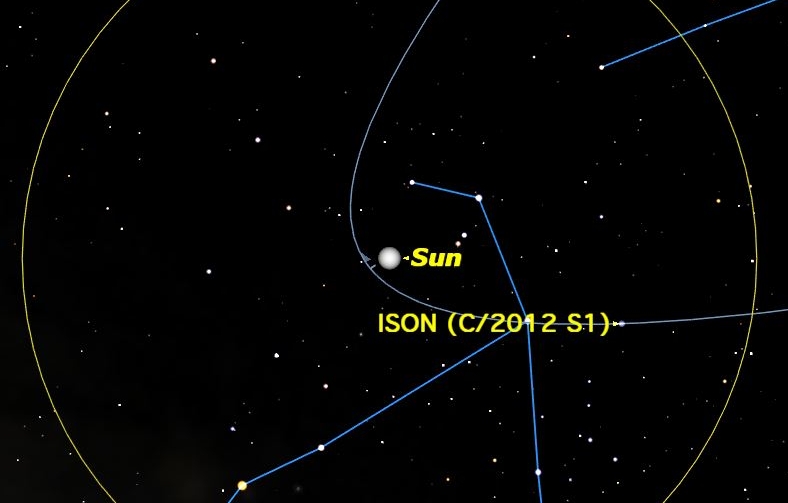 This image is to scale, so you can see that ISON would pass less than a solar diameter above the surface of the Sun.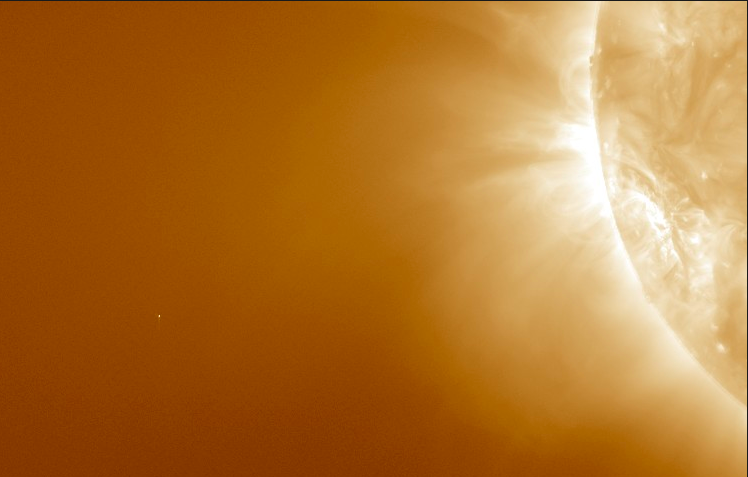 David and Goliath - ISON, about the size of a pixel, slingshots towards the Sun - Image credit: NASA SDO
This was a reasonable prediction based on the orbital elements known at the time, but two events happened along the way.
First of all, the comet did not brighten as quickly or as much as predicted, so we had to scale back its predicted brightness. On the morning of November 14, it suddenly increased several magnitudes in brightness, and we hoped it might be back on track. This was the only morning I observed it with my own eyes: http://geoffsobservingblog.blogspot.ca/2013/11/1544m-20131114.html
But the really scary thing for everyone was what might happen on November 28, Thanksgiving Day. On that day, the comet was predicted to pass through perihelion, its closest approach to the Sun at an altitude of only 1,165,000 km (724,000 mi) above the Sun's surface. What would this do to a will-o-the-wisp body like a comet?
By this time the comet was too close to the Sun to be observed from Earth, so we turned to solar observatories in space to follow its dive towards the Sun. The yellow circle in the middle graphic above represents the field of view of the SOHO satellite's LASCO C3 coronagraph.
A word about SOHO and LASCO. SOHO is short for Solar and Heliographic Observatory. This satellite was placed at Earth's L1 Lagrangian point in 1995 to record solar activity 24/7, and is still functioning well after 18 years, returning images many times every day. These appear on the internet within hours of them being taken: http://sohowww.nascom.nasa.gov/data/realtime-images.html
Two of its cameras were of particular interest for observing ISON, Large Angle and Spectrometric Coronagraphs #2 and #3, known as LASCO C2 and C3 for short. C3 has a field of 32 degrees and C2 6 degrees. In each camera, a disk blocks the Sun's direct image. Because SOHO is in space, there is no atmosphere to scatter the Sun's rays, so the background stars are visible in C3 down to about 6th magnitude. Planets and comets near the Sun are also recorded.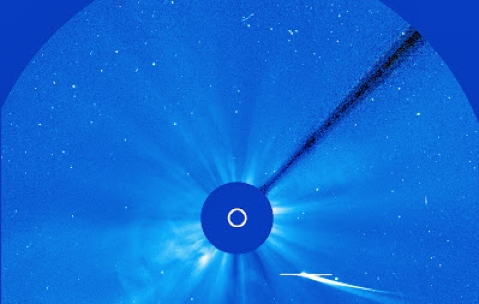 ISON first entered C3's field of view on the afternoon of Tuesday November 26.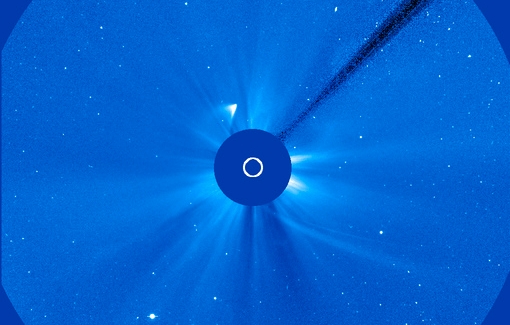 ISON seemed to coalesce briefly into a wedge of debris.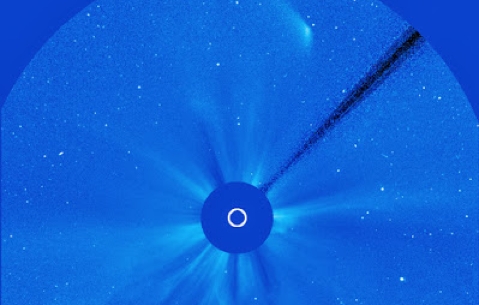 But this had almost dissipated by the time it was leaving the C3 field of view.
The white circle inside the dark blue occulting disk represents the Sun's diameter. In the first image above, the star immediately behind the comet is Dschubba, Delta Scorpii. The horizontal spike caused by the comet's nucleus is blooming in the CCD camera. In the middle image above, that's Antares at lower left, with Messier 4 just to its right.
Just after the first image was made, something serious happened to ISON. It faded several magnitudes in brightness, suggesting a catastrophe triggered by the heat and radiation from the Sun. It continued to fade as it disappeared behind the occulting disk in the middle of the field.
ISON seemed to coalesce briefly into a wedge of debris, but this had almost dissipated by the time it was leaving the C3 field of view